Remembering Bill Giles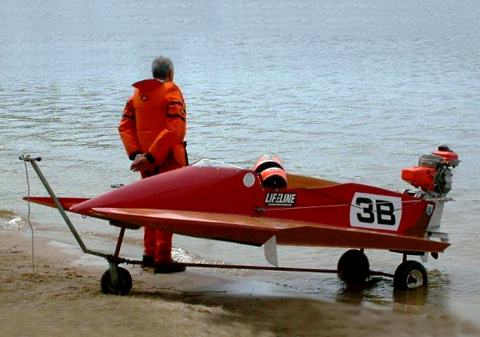 It was a terrible shock to the entire boat racing community to hear of the passing of Bill Giles. Bill was an icon in the sport of powerboat racing and his racing accomplishments are listed below. He will be missed by all that ever had the opportunity to engage in a conversation with him. A leader is often defined as one that has influence or power, a conductor or a principle performer. Bill was a born leader not only in our sport but also in his local community. Bill was a Trustee of the Pilgrim Congregational Church and a founding member of the Whittenton Community Scholarship Fund. He was also a co founder of the Greater Taunton Charitable Foundation. Bill had a very fulfilling life outside of racing, but it was racing that was his passion.
Bill had the philosophy that each person can make a difference and that everybody should try. He would never back down from a challenge and he followed his beliefs through to the end. Especially in racing, Bill was never a quitter. Racer Allen, who had probably known Bill longer than any of us, commented "Bill Giles was a fierce and courageous competitor. In over forty years of watching him race, I can honestly say that I never-ever saw Bill Giles quit or give up in a boat race because he wasn't going to win. He raced as hard as he could all the way to the finish line every time." I personally had the pleasure of meeting Bill when I was just ten years old. He was already a champion of the sport back in 1963, but he took the time to talk to me and encourage me in my early years. He was my idol, my mentor and the type of role model that every parent would hope that their child would look up to. And it was not just me, but every new person that came into the sport, Bill would take them under his wing and offer them advice whenever it was needed.
His passion, dedication and loyalty to our sport was unequalled. If we could all give back to the sport ten percent of the effort Bill put forth, racing would be in a much better place. It is always sad when we lose someone so close to us, but I also know that I will always smile when I think of the man South Shore Outboard called "Green Flag Giles". He was a great boat racer and even a greater man.   Lowell Hanson
A special tribute from Team Scott and Unity Flagstaff:
Green Flag Bill Giles, he was our Referee around here
And when he held the roll call you'd better be there
He was quick with a laugh and a smile for a greeting
But just don't be talking at HIS drivers meeting
He didn't need liquor his vices were few
Just give him some milk and a cookie to chew
His debut in racing was a tough heat of three
The Nina, the Pinta and the Santa Marie
He always came back from broke bones and black eyes
But nothing could stop him although Brenda tried
If you came up complaining about spray in your face
His reply would be only, "Quit your whining and race"
When it was windy and raining and you didn't like the scene
You'd here Bill's announcement, "Let's go with the Green"
So if you gazed upon white caps or a nasty rough chop
Swallow hard and get ready cause his race didn't stop
You'd ask "why don't you quit, tell us Bill what's the reason?"
And he would say with a straight face, "Maybe after next Season"
We will no longer see him at the races from Spring until Fall
But don't ever forget to remember, he was the best of them all.
Over the decades Bill had raced against some of the best drivers in the country. He had rarely missed a National Championship and most often competed in multiple classes. Through his driving talent, perseverance and will to succeed, he had always managed to win more than his share of races along with countless club high point awards.
Bill Giles the race driver garnered an impressive number of achievements:
– National High Point Championships in the BSH class (1963-64, 66-68, 72, 77, 81, 83-84, 86, 90; also in the DSH class (1966).
– A.C. Kiekhaefer Trophy (1966-70) which is awarded to the Stock Outboard driver who accumulated the most points in all of the classes that he races combined. It was discontinued after the 1970 season.
– Gulf Hall of Fame (1966, 68). In 1968, he was elected as the Gulf Gold Cup Driver of the Year by his fellow Hall of Fame members.
– John and Flora Blank Trophy (1968-69), given to the Stock Outboard driver who accumulates the most points in a year for a single class.
– National Championships (CU- 1966, CSH-1972 & 93, 20SSH-1978, BSH-1986 & 91).
– Winter Nationals 25SSH-1987 and BSH-1988.
– CBF Canadian National Champions in 20SSH-1982 and BSH-1983.
– North American Championship in BSH-1986
– International Competition: In 1976, as a member of the MGM International OMC Racing team, the first all -American team to win the 24 Hours of Rouen, France. The other members of the team were Fred Miller and Hank Menzies. He also took 2nd place at the 1985 OSY400 World Championships in Nottingham, England.
– Raced in every Stock Outboard class, several PRO and MOD classes, and the SE class in OPC.
– Inducted into the American Power Boat Association Honor Squadron in 2004.
Bill Giles was a Champion on and off the race course!