SSOA Racing School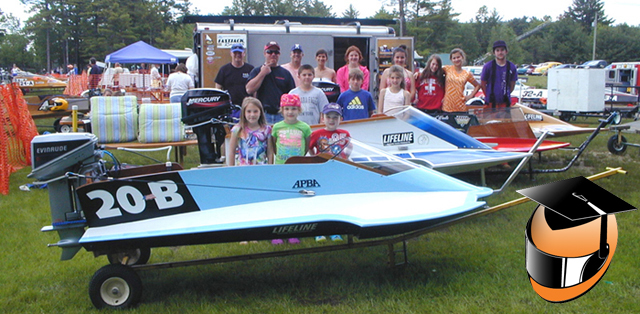 In 2013 the South Shore Outboard Association held their first "Racing School". The program was initiated in an effort to not only introduce family's to the exciting sport of outboard hydroplane racing but to actually prepare and get youngsters out on the water. Aimed at the younger aged Junior Division drivers, which compete in the J and AX classes, boats were bought, donated and loaned to get the school off the ground – or more precisely, on the water!
With the help of SSOA members equipment, APBA, Lifeline Race Gear and Brown Tool & Machine Co., donated motors, safety equipment and racing hardware was collected and four J/AX hydro rigs were assembled and readied for the "Dry School" instructional day and then the greatly anticipated first day on the water "Wet School".
The Dry School consisted of a day of classroom instruction starting with a video introduction to boat racing, followed by safety gear/helmet explanation and fitting, getting in and out of a fully set up display hydro with hands on instructions about steering and all the controls. An interactive discussion followed with the teaching of proper starting and stopping of boats, cornering techniques, race course procedures, flags, race starting techniques and any other questions that arose. The students were then sent home with a copy of APBA's racing rules to study.
The Wet School was the culmination of many hours of hard work by some SSOA members. With great anticipation on both the instructors and the students part, rigs were set up, patrol boats were put out, turning buoys put in place and last minute instructions were given. Then one at a time each driver was sent off to see if they could successfully get on plane, complete a lap and safely return to the pits. To the cheers of the on-looking student drivers and the relief of the instructors each student took a turn and did their thing. Soon we were into second and third tries and quickly running out of day light. Our Wet School's have been a complete success.
At SSOA's first race of the season, club members brought, set up and prepared loaner J and AX hydros for students to have a shot at their very first race. With more on the spot instruction, the completion of the mandatory J drivers test and a separate J testing period, seasoned J and new rookie drivers finally took to the water for their first taste of competition. With apprehensive parents and SSOA veterans on the shoreline we watched as all the hard work paid off with a successful race, ending with smiles and memories that will last a lifetime.
For Racing School information please contact Bruce Nichols at 781-293-9933 or oldpropnut@comcast.net